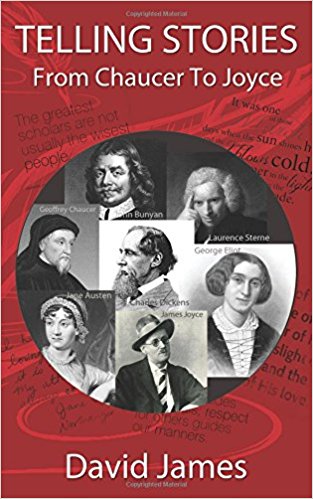 Six centuries is a long time for anything but, for the world of literature, it is a journey perhaps more profound, unpredictable and fascinating than any other. However, it's a minefield to unravel and understand.
Thankfully, UK novelist David James has completed the mammoth task of not only producing a comprehensive history of the literary world, but compiling it into a compelling book anyone can understand and embrace.
Telling Stories: Chaucer to Joyce delves deep into the heart of storytelling and narratives, and takes a close look at the colourful and extensive ways in which they are presented. Spanning six centuries and exploring the works of a rich range of iconic authors, each from vastly different eras - Chaucer, Joyce, Dickens, Austen and Eliot, plus many more - the author's eloquent and intelligent style and persuasive findings will keep any discerning reader with a penchant for literary criticism thoroughly absorbed. The author also looks at the use of fictional time and rhetoric, controlling (and interfering) narrators, digressions, and the author's use of themes - morality, class, religion, decency, and socialising – in great detail, and his compelling conclusions will spark a whole host of further research and questions.
• Did Chaucer really plant the germ of the English novel?
• Why did Dickens struggle so much with endings?
• Why were Jane Austen's settings and plots so polarised from her own, more sedate life?
*What effects did serialisation or part issues have on the shape of the work of Dickens and George Eliot?
• Should Eliot's pioneering take on materialism and its evils be given more recognition?
This fascinating work of literary criticism also explores the concept that modern fictionalists simply cannot leave the old stories alone. It seems there are Christ figures, Mary Magdalenes, Virgin Marys, and King Priams, as well as Hectors and Achileses appearing in modern dress in Brixton market or Dublin's fair city wherever a page is turned. Take a look at the opening pages of this stimulating and inspiring read by clicking the 'Look Inside' feature now. You will never look at these iconic authors and their infamous styles in the same light again.
"Many existing books look at the history of fiction from one author's viewpoint, or through a very specific lens. However, I wanted to break new ground by creating something that takes a holistic look at this most fascinating of evolutions," explains the author. "I've written some successful and rather quirky books, which have naturally required me to deeply understand the world of literature from a very broad and brave perspective. It was time to put all of that information into its own book, and here we are."
Continuing, "I also argue that today's cutting-edge authors have to learn to build on and consider the works of writers before them. Literature is like a tree that keeps on growing – if you cut the bottom out, the entire thing topples over. The amazing thing is that each of today's writers, however unconventional they are, is creating their own page in a history book that will never be complete."
'TELLING STORIES: From Chaucer To Joyce' is available now: http://amzn.to/2BiERLC.