His Bloody Project
Burnet, Graeme Macrae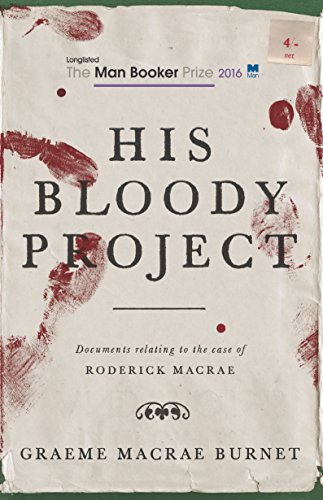 Man Booker 2016 Shortlisted
1st, reviewed by David James
For many years I have avoided reading Booker winners or Booker shortlisted books, but recently my eldest daughter sent me no less than six of last year's shortlisted items, so I felt in a way duty bound to see what's going on in the current literary market-place. I began with His Bloody Project, expecting it to be a wife's complaint about her husband or partner's fixation with fishing at all hours or his obsession with dismantling vintage cars. But not at all; I was plunged into the rural Scotland of 150 years ago where in the hamlet of Culduie one Roderick Macrae, a 17 year-old crofter's son was writing his account of how he came to murder three of his neighbours on August 10, 1869. Roderick Macrae was writing his memoir in Inverness jail and awaiting trial and in the short Preface to the book I found under A Note on the Text an explication of certain terms and an apology for sundry 'editorial interventions' of GMB, dated July 2015. This book is categorised as a novel, but I have no obvious reason to doubt the truth of Roderick's confession. The author is after all Graeme Macrae Burnet and his Preface is as close to the facts as seems possible. The book contains a hand drawn map of the area, the places listed corresponding to my A-toZ map of Scotland. There is also testimony to Roderick's life and character by witnesses who knew him, which bear out much of the story that the protagonist gives us.
Although I had some doubts that a youth could possibly have written such clear and transparent English and that Burnet must have done a great deat of tampering with the original script I forgave him this for he has produced a very readable and penetrating description of the background and thoughts, such as they are, of the murderer, who comes alive through his innocent transcription of events. Many questions are raised about motive as well as the question of responsibility for the violent deaths of the neighbours. Roddy (as we are invited to call him) is essentially a truthful young man, an upright citizen in fact, modest and unassuming. He is in a strange way justified in his terrible activities, blameable only in forgetting to care for the sheep whom he had earlier dispatched, if you like mercy-killed, while day-dreaming. He is, as he finds, a victim of chance, like anyone else, not only in sheep-herding, but in the circumstances of his birth and parenting. In his will before sentence is to be carried out Roddy asks for no clerical blessing to be said at his passing. The subtle work of the novelist has already prepared the reader for the ultimate deed of 'rescue' from a virtually impossible position.
Thus, since I have no desire to investigate public or official records in Scotland I am happy, to accord Mr Burnet the honest and honourable five stars which he must earn for a stimulating and scrupulously fictionalised version of the facts as presented. ​
Hot Milk

Levy, Deborah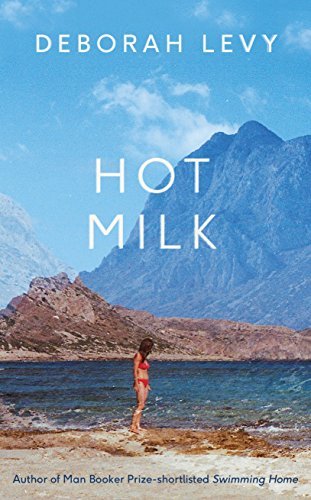 Man Booker 2016 Shortlisted
2nd, reviewed by David James
Deborah Levy's story of the final 'chapter in the history of my mother's legs' is set in the desert of southern Spain, where Sofia Papastergiadis goes to the Gómez clinic in a desperate attempt to find treatment for Rose, her mother. The book's simple surface of a holiday adventure masks the complexity of this coming-of-age novel in which a 23 year-old girl, whose life has been devoted to studying anthropology, meets sundry suitors of both sexes who seem to offer her protection from human and natural predators, called medusas. The physical threat, though painful, is as nothing to the emotional humiliation she suffers as an outsider, a virtual child long abandoned by her Greek father. Many clashes of purpose and temperament encourage Sofia'to flee the desert to meet her long-lost father in Athens.
Her greeting and her request for funds to complete her doctorate are repulsed, however, for the successful banker has not only found God, but established himself as an entrepreneur and settled down with his new young wife and baby. Meanwhile, during her absence, Rose has deteriorated and Dr Gómez is replaced.
The novel is heavily invested with symbols, beginning with the smashed computer screen which contains Sofia's life and opinions and ending with her deliberate smashing of a precious Greek vase. Throughout we have the ambivalent jelly fish of which there is a glut, suggesting necessary physical and mental suffering as well as healing, the embroidered letters from her friend's gift of a sweater, in which the term 'Beheaded' is initially misconstrued by Sofia as 'Beloved.' Finally, the girl's repeated failure at driving tests, as opposed to her mother's surprising recovery of skills when needed, which says much about their respective characters. I am sure that the title 'Hot Milk'suggests more than the traditional English comforting nightly beverage, especially in a land where water is desperately short and a perpetual problem to Rose, the permanent invalid. But the book is an easy and thoughtful read nevertheless and well worth its place on the Booker shortlist.
Eileen
Moshfegh, Ottessa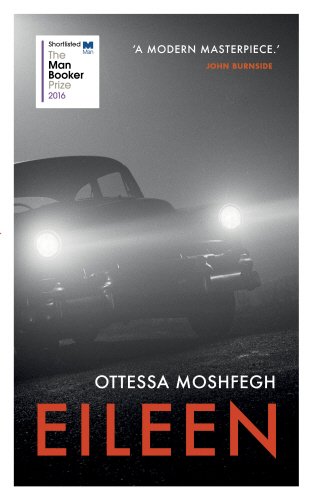 Man Booker 2016 Shortlisted
3rd, reviewed by David James


Eileen, a fictional autobiography of the heroine's life at a correctional facility for teenage boys begins by her telling us that she's a very ordinary girl who 'looked like nothing special.' Throughout the first part of the book she emphasises her unpromising family background and her acceptance of her state as an ignored and neglected kid living in the rural New England town of X-ville.
The woman writing this account, however, is much older and wiser than the young woman of the week before Christmas 1964, the time of the action of the book. So this is an account of just one week in a twenty-four year old's life in which something crucial happened to the story-teller Eileen. This is her meeting with Rebecca Saint John, a new graduate from Harvard who has been appointed to the correctional facility as an advisor. In that week, Eileen glimpses the life she herself might have attained. Rebecca is everything that Eileen is not: beautiful, charming, friendly and out-going. Too good to be true you might think, and so it proves. Rebecca is Eileen's guardian angel - until Eileen visits her in the bowels of X-ville when we find that she is occupying not her own but the house of Mrs Polk, the mother of Leonard one her charges, serving a sentence for murdering his father. Mrs Polk just happens to be tied up in the basement - by none other than the seductive Rebecca.
The scene in the basement, where Eileen hears the truth about Mrs Polk's involvement in her son's being habitually raped by his father with the connivance of his mother takes some swallowing. As indeed does the fact that Eileen carries her father's gun with her wherever she goes - to protect him in his dotage, from damaging himself and others. In fact, by the time comes for Eileen to leave X-ville the melodranatic plot gradually takes over, and the earlier sharpness of the portrait of Eileen has lost its edge.
Do Not Say We Have Nothing
Thien, Madeleine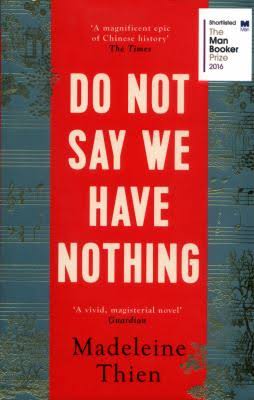 Man Booker 2016 Shortlisted

4th, reviewed by David James




This book is about life in contemporary China under the rule of Chairman Mao. It gives a frightening picture of living under an unenlightened dictatorship, and recalls George Orwell's 1984, with its thought police, its constantly booming loudspeakers and government espionage methods cramping any suggestion of individualism. But this novel is far from being a fantasy but a living nightmare in which individuals and government officials are named and presumably exposed. It perpetually asks the implied question, 'What would you, the reader, do?' Those who seem to suffer the most are young professionals, since the book deals constantly with Chinese artists, especially musicians, whose work being non-verbal is therefore especially subject to scrutiny.

I found the book to be over-long, made up of various confessions, without giving the reader a pole for sympathy. It begins in Vancouver with Ma-li, occasionally transliterated as Mary, who is seeking her lost father, Ba Lute, but who is almost immediately introduced to a new arrival, Ai-ming, a few years her senior and who is terrified in the open environment of the West. She is constantly cold and afraid to go out. The reader is just getting invoved with this relationship when the author switches to her 'real' subject - life in contemporary China, from the sudden disappearance of dissenters, to closed doors to all those suspected of 'Rightism.'

We meet scores of characters, many of whom appear to be quiet anti-revolutionists even as they are chanting 'Long live Chairman Mao, the Great Helmsman,' and we are told about their inner lives, given retrospects within retrospects, for the dead past is their only means of survival. We forget about Ma-li and Ai-ming for nearly 100 pages to learn about the ambitions and inevitable failures of the composer, Sparrow, who has been taught that 'desire, or something so small as love, was always subservient to revolution,' but 'the truth Sparrow felt led to another life entirely. He knew or feared they could not be reconciled.'

This is an ambitious and heartfelt book, but this reader needed masses of notes to keep track of who was who, not to mention the introduction of Chinese script - and was not as subject to tears as most of her characters.









All That Man Is
Dzalay, David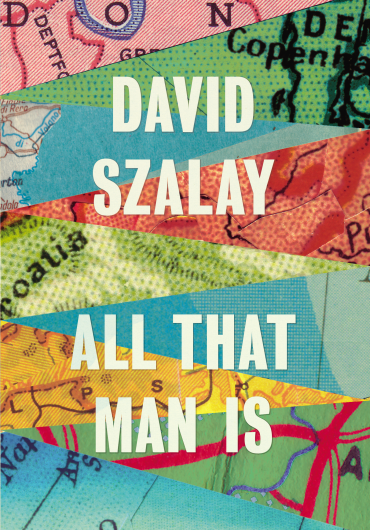 Man Booker 2016 Shortlisted

5th, reviewed by David James




'It's not a novel at all,' many reviewers complain, 'It's only a collection of stories.' 'It makes uncomfortable reading,' others lament; 'it's a man's book,' says yet another. But why not? Of course, it's not Jane Austen, nor even George Eliot. And what discriminating reader demands that a book be comforting? As for its genre - its 8 related stories not one, but they are linked by theme and also by character, for the young men in the first appear again later. To me the book is supremely realistic, offering an intelligent reflection of everyday experience of love and wealth, and assuming, as Pyrrho, the founder of scepticism did, that 'we know nothing.'

Well, we know one thing - that we are mortal, if that's any consolation. There are no happy endings here and no promises of future joy - in this world or the next. I have nothing but praise for this book - one in which the problems which, behind all the talk, confront every thinking man or woman, from sunrise to sunset, and are here vividly presented, as few or possibly no other fictionalist has managed, and I include the great novelists, such as Tolstoy, Turgenev and Thomas Mann. The stories are frequently set in various European capitals and are grounded in human relationships, sometimes couples, often concentrating on one alone, one who fails in his ambition to secure at any cost a fortune or a woman, or who survives but finds no satisfaction in his pursuit of a dream.

The telling relies for its effect on dialogue - often in casual or incomplete utterances. There is little or no scene-painting in pages of clipped Hemingway-style writing, in sequences of fragmentary and often inconclusive action. The reader is left to imagine, to pick up the pieces. We gradually come to know that Emma, for example, is a highly sought-after prostitute, one who becomes likeable only in that she listens to and is respected by none excepting Balāzs, the one who asks nothing from her except a walk in the park, but who understandably but foolishly smashes the nose of a rich client who insults her. These things, as we say, just happen. The rest is silence.

The Sellout
Beatty, Paul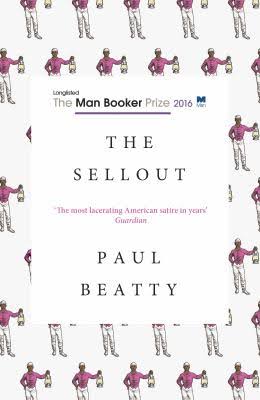 Man Booker 2016 Shortlisted
6th, reviewed by David James
This possibly over-puffed novel about the endemic nature of racism in the United States has received a glut of glowing tributes. Shortlisted for last year's Man Booker Prize, The Sellout has been lauded to the skies as the book we have all been waiting for, an honest account of life in contemporary Los Angeles, a short-arm jab to the heart of those who are complacent about the ability of black-skinned and white-skinned people to live peacably together. Beatty's chief witness is the unnamed angry narrator of this so-called 'satirical' novel, who in the Prologue clearly lays it down that 'People have fought and died trying to get some of that "Equal Justice Under Law" advertised so blithely on the outside of this building, but innocent or guilty, most offenders never make it this far. Their courtroom appeals rarely go beyond a mother's tearful call for the Good Lord's mercy or a second mortgage on grandma's house.' This is a wide and sweeping slur on the justice system of the United States and deserves to be answered, but my purpose is not to argue for or against Beatty's, admittedly fictional, case; my task is to give an honest review of the novel as a fictional, or quasi-factual, document, and it is here that I find its major weakness. I have no doubt that there is plenty of racial bias in the United States, as there is everywhere else in the world - I too have followed Louis Theroux's interviews with accused and condemned criminals in Americal jails, but their life stories, convincing as most of them are, do not make a novel; they make a case for justice, an entirely different matter.
Let us take a glance at a few from the novel's teeming admirers, mostly American sourced. Sam Lipsyte, author of The Ask, finds it 'a spectacular explosion of comic daring, cultural provocation, brilliant, hilarious prose and genuine heart;' to the Los Angeles Times it is 'a bruising novel that readers will likely never forget.' To the O, The Oprah Magazine the book is 'a work of genius, a satirical opus on race in 21st century America,' while to the Wall Street Journal it is 'satire of the highest order.' Well, in the face of this blitz of praise you might imagine it impossible to be a lone dissident, which to a large extent I am.
First, if the book is a novel and not a tract, does the reader need to be told in the opening pages that 'Equal Justice Under Law' simply does not apply to black-skinned people in the United States? This would need some arguing; it is presented here as an open-and shut case. Fine, you have to allow scope for the so-called satirical mode, where hyperbole is welcomed in the cause of entertainment. Take Orwell's 1984, for example, where the reader is plunged into a nightmarish world in which even to write a diary is a crime and to so much as think about disputing the authority of Big Brother is a diabolical thought crime. This of course is to exaggerate in Rabelaisian mode the powers and motives of the leaders and the relative feebleness of the brain-washed populace. Only Winston Smith ventures to ask questions and he pays the ultimate penalty. 1984 is a work of genius and is funny at the same time as being horrific. It is good for all time, but we know that, though soundly based on fact, it is a work of fiction. The Sellout is much closer to home, the streets are named and characters are often those who have lived. Readers feel that this is our world or as close to it as can be. This is not 'satire of the highest order;' in fact it's not satire at all, but a rant.