The Sellout
Beatty, Paul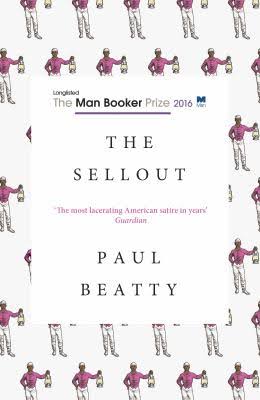 Man Booker 2016 Shortlisted
6th, reviewed by David James
This possibly over-puffed novel about the endemic nature of racism in the United States has received a glut of glowing tributes. Shortlisted for last year's Man Booker Prize, The Sellout has been lauded to the skies as the book we have all been waiting for, an honest account of life in contemporary Los Angeles, a short-arm jab to the heart of those who are complacent about the ability of black-skinned and white-skinned people to live peacably together. Beatty's chief witness is the unnamed angry narrator of this so-called 'satirical' novel, who in the Prologue clearly lays it down that 'People have fought and died trying to get some of that "Equal Justice Under Law" advertised so blithely on the outside of this building, but innocent or guilty, most offenders never make it this far. Their courtroom appeals rarely go beyond a mother's tearful call for the Good Lord's mercy or a second mortgage on grandma's house.' This is a wide and sweeping slur on the justice system of the United States and deserves to be answered, but my purpose is not to argue for or against Beatty's, admittedly fictional, case; my task is to give an honest review of the novel as a fictional, or quasi-factual, document, and it is here that I find its major weakness. I have no doubt that there is plenty of racial bias in the United States, as there is everywhere else in the world - I too have followed Louis Theroux's interviews with accused and condemned criminals in Americal jails, but their life stories, convincing as most of them are, do not make a novel; they make a case for justice, an entirely different matter.
Let us take a glance at a few from the novel's teeming admirers, mostly American sourced. Sam Lipsyte, author of The Ask, finds it 'a spectacular explosion of comic daring, cultural provocation, brilliant, hilarious prose and genuine heart;' to the Los Angeles Times it is 'a bruising novel that readers will likely never forget.' To the O, The Oprah Magazine the book is 'a work of genius, a satirical opus on race in 21st century America,' while to the Wall Street Journal it is 'satire of the highest order.' Well, in the face of this blitz of praise you might imagine it impossible to be a lone dissident, which to a large extent I am.
First, if the book is a novel and not a tract, does the reader need to be told in the opening pages that 'Equal Justice Under Law' simply does not apply to black-skinned people in the United States? This would need some arguing; it is presented here as an open-and shut case. Fine, you have to allow scope for the so-called satirical mode, where hyperbole is welcomed in the cause of entertainment. Take Orwell's 1984, for example, where the reader is plunged into a nightmarish world in which even to write a diary is a crime and to so much as think about disputing the authority of Big Brother is a diabolical thought crime. This of course is to exaggerate in Rabelaisian mode the powers and motives of the leaders and the relative feebleness of the brain-washed populace. Only Winston Smith ventures to ask questions and he pays the ultimate penalty. 1984 is a work of genius and is funny at the same time as being horrific. It is good for all time, but we know that, though soundly based on fact, it is a work of fiction. The Sellout is much closer to home, the streets are named and characters are often those who have lived. Readers feel that this is our world or as close to it as can be. This is not 'satire of the highest order;' in fact it's not satire at all, but a rant.